---
♦ Baader Hyperion 68° Modular Eyepieces ♦
The full Hyperion series, 3.5mm to 21mm
The New Baader Planetarium Hyperion 68° Modular Eyepieces offer world-class performance and unique photo-visual features, at an unheard of price. No longer do amateurs need to spend more on their eyepieces than their primary instrument in order to get true high-end performance in a wide-field eyepiece. Not just a different branded version of their highly regarded cousins, the Hyperions have been totally redesigned to deliver better transmission, contrast, and useful new features. Baader Planetarium has worked hard to give the Hyperions the world's finest optical coatings, superb mechanics, and their unique multifunctional design.
As a visual eyepiece, we have found the Hyperions deliver superb sharpness and color fidelity across their 68° wide, flat-field, even in fast telescopes. From their superb on-axis and off-axis sharpness, to their pitch-black high contrast field, the Hyperions really work. Viewing through a Hyperion is notably comfortable and relaxing, due to their forgiving eye-position, 20mm of eye-relief, extra-large eyelens, and an optical design that is free of annoying 'kidney-beaning' and blackouts.
Some highlights of the Hyperion;
Consisting of 8 elements in 5 groups, the Hyperion optical design delivers outstanding sharpness and color correction over a true 68° wide field. The Hyperion optical design has been chosen to deliver a exceptionally comfortable view, thanks to its 20mm of eye-relief, large eyelens, and a pupil free of the kidney-beaning and blackouts common in many wide field eyepieces.

High grade water-white glasses are used throughout, to deliver a crystal clear view with low scatter and excellent color fidelity, free of the yellow or bluish coloration imparted by many other eyepieces. Use of high-index glasses delivers low distortion and astigmatism, even on scopes as fast as f/4.

Baader Planetarium has gone to great lengths to give the Hyperions the most advanced multicoatings ever used on amateur telescope eyepieces (please note: these are not the same coatings other manufacturers use on their similar clones of these eyepieces..). The Hyperion Phantom Group multi-coatings and coating equipment are proprietary to Baader and have been designed by German coating engineers specifically for the Baader Hyperions, and optimized for each of the glasses used. These coatings are applied with the latest thin-film German coating equipment, training, and process controls. The result are coatings that truly rival the best in the world - including the famous Zeiss Abbe Orthoscopic! The difference is clearly visible - users report that the Hyperions clearly show fainter stars and darker sky than the competitive clones.

The proprietary Hyperion housings have been engineered by Baader to incorporate careful opto-mechanical design and execution of internal baffling to eliminate stray light and ghost reflections. Uncapping the eyelens reveals a pitch black interior, with no distracting and contrast-robbing glints of light from unbaffled lens or metal surfaces. We call these our 'black hole' eyepieces.

Superb fit and finish. Eyepiece barrels are accurate to size, nicely machined, and hard anodized.

Works in both 1.25" and 2" focusers. The 1.25" barrel is threaded for filters and kept short (0.94") to work well in binoviewers and spotting scopes. Baader's new housing incorporates a full-length 2" barrel (0.94" long) and provides a specially designed tapered locking recess. In addition, the Hyperion field stop locations have been re-designed and optimized to give the shortest focus position possible (important for binoviewer use).

Soft folding rubber eyecups work for both normal and eyeglass users. Each Hyperion comes with protective lens caps and leatherette storage pouch.

Accepts astigone (available form Eridanus Optics) and other popular Astigmatism Correcting Lenses (not available from Eridanus Optics CC). The Hyperion eyelens housing is compatible with the full range of correcting lenses from .25 to 3=BD Diopters. Observers with any astigmatism will really appreciate this feature, no longer needing to wear eyeglasses to see stars as true pinpoints. The long 20mm eye relief of the Hyperions works particularly well with these corrector lenses, without forcing the observer to press their eye close to the lens in order to see the entire wide field.

Removable Negative Lens Element permits variable focal lengths using Baader's New Finetuning Rings (see section below).

Great for Binoviewing! When compared to some wide field eyepieces developed especially for binoviewing, the Hyperions were superior in every aspect: more comfortable view with better eye relief, smaller housing diameter at the eyelens gives more nose-room, better coatings (= better contrast), wider field, and half the cost.
Baader Hyperions incorporate some unique and innovative aspects, which are designed to make them the ideal projection eyepiece;
The optical design of the Hyperions enables them to work as an extremely sharp wide-field projection eyepiece for even large chip CCD and DSLRs.

The eyelens barrel has been provided with two different external threads, M43 and M54 (these are covered by the removable rubber eyecups). A complete system of adapter rings enables cameras to be directly (and rigidly) close-coupled for afocal projection, or variably extended for classical eyepiece projection imaging with the Baader Plasnetarium's T-Adapter and Extension Tubes. A series of 16 threaded rings provides compatibility with just about every digital (CCD/DSLR) and videocamera made, even large and heavy 3-chip videocameras. For a complete listing of these adapters, please see HYPERION Digital T-Rings and Adapters.

The front negative lens element is designed to be removed (and exposes an M48 2" filter thread). This converts each Hyperion into a longer focal length high-quality projection eyepiece, giving the imager two choices of focal length with each eyepiece.
Below are feedback from international customers:
"I can pass on some very brief comments regarding the Hyperions. I tested the 3.5 and the 21 on my 90m f/9 Vixen fluorite apo. The 3.5 on lunar viewing absolutely smokes my TV 8mm Plossl/TV 2X barlow combination in resolution, brightness, and obviously field of view. Eye position is simple, very enjoyable eyepiece. I am surprised, and very pleased. The 21 on deep sky cruising is good. Got the best view if M31/32/110 the other night of any eyepiece I've tried. The FOV was flat with stars to the edge, no gulls." Reid Williams

"I have had only a few clear moments with them. So far I'm blown away. Once word gets out your not going to keep them in stock. Thanks for the great eyepieces. I don't understand why they don't sell for more." Jim Turner

I thought I would drop you a note with my comments on the Hyperions that I had recently purchased. Last nite was the first time I had the opportunity to use them and I was very impressed. Very clear, sharp and pinpoint. Using the 17mm, for the first time I really saw the fifth star in the trapezium in M42! It was very clear and prevalent. Just for the fun of it, I put in the old eyepiece that I had been using (an Epic ED 18mm) and I couldn't even see it. I like the Epic's but they don't compare to the Hyperion's. The nice wide view is very pleasing, very sharp. ( I don't think I'll bother taking the Epic's out next time.) Phil Chartier

I think the Hype's are fantastic ep's at any price! I use them in both my 14" SCT & 6" F6.5 refractor, and they are clear & sharp to the extreme edge in both! The coatings must be something very special as I get almost ZERO light scatter when looking at the planets. Also very contrasty, and comfortable to use. They are keepers for sure. What you get for the price is incredible! Bob Lindsey

My local observing buddy Doug and I had a wonderful night of observing in North Florida this past night. One of our goals was to test the 17mm Baader Hyperion against the 17mm Stratus in my 8" f/5.6 Starmaster V8 on a Tom O tracking platform. This was mostly a planetary night but M44 (Beehive Cluster) was directly overhead and a good target to test both ep's for sharpness, contrast, and color. What we found was that the Hyperion's focal plane was about 1/4 turn closer to the primary than the Stratus. We found that the contrast was slightly better in the Hyperion than the Stratus and the starpoints in M44 were brighter likely due to the contrast differences. Bob Schilling (Bob likes the Hyperions so much he has replaced his 2.5X more expensive widefield eyepieces with Hyperions)
Saturday night was the first time I got to use the Hyperion 21mm in the 12.5" Astrosystems Telekit. It was sharp all the way out in my F 4.85. I did not see any gulls or off-axis defects to speak of. M13 was breathtaking, and the Veil was ghostly looking and detailed in our dark Kentucky sky. Very impressive, and all for less than one hundred fifty dollars. Perfect views like this can only be loved! You have some winners there with Baader. Greg Myrick
For more information on these novel eyepieces and their many uses, please click on the <FONT color=3D#006699>Baader Hyperion Data Sheet link.
(146 kB)
For a further glimpse of the many uses, click here
♦ Baader Hyperion Finetuning Rings
NEW: With the addition of Baader's new Finetuning Rings, each Hyperion eyepiece can now function as four eyepieces! Available in 14mm and 28mm lengths. The finetuning rings are 2" OD and threaded M48 (filter thread) on each end, so they can be installed in-between the Hyperion's removable front negative element and main body. The added spacing decreases the focal lengths (increases magnification), according to the table below. Finetuning rings are made to match the Hyperion finish, and are fully internally sharp v-threaded and blackened to eliminate stray light reflections from the internal surfaces.
Also, another novel way to change eyepiece focal length is to use a Baader 2" Filter in-between the Hyperion negative element and main body, just like a small finetuning ring. The 8.5mm thickness of the filter cell will have a similar (milder) effect in reducing the Hyperion's focal length. This also allows use of 2" filters with Hyperions, something that is not possible with any other 1.25" Eyepiece.
Please Note: Removal and installation of the front negative element should be done in a clean environment to prevent dust or other contamination from depositing on the internal elements (which are very difficult to clean).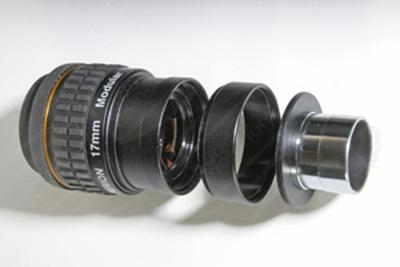 Exploded view of 14mm finetuning ring in 17mm Hyperion eyepiece
| | | | | |
| --- | --- | --- | --- | --- |
| Hyperion | with 14mm Ring | 28mm Ring | 14 + 28 Ring | w/ Baader 2" Filter |
| 21mm | 17.6 | 15.5 | 14.0 | 18.5 |
| 17mm | 13.1 | 10.8 | 9.2 | 14.6 |
| 13mm | 10.8 | 9.2 | 8.1 | 11.7 |
| 8mm | 6.0 | 5.0 | 4.3 | 6.9 |
| 5mm | 4.0 | 3.2 | 2.6 | 4.3 |
| 3.5mm | 2.5 | 2.1 | 1.8 | 2.9 |
♦ Baader Hyperion 8-24mm Clickstop Zoom ♦ NEW!!
The new Baader Hyperion 8-24mm Clickstop Zoom continues the Hyperion tradition of delivering top-of-class performance and quality, at very reasonable prices. Zoom eyepieces have earned a lackluster reputation over the years, due to their compromises in optical design and execution. We think the Hyperion zoom will surprise many jaded zoom users with its combination of performance, quality, and novel features.

Some highlights of the Hyperion;

Consisting of 7 elements, the Hyperion optical design delivers outstanding sharpness and color correction over its field.

Continuously variable focal length, with click-stops at 8, 12, 16, 20, 24mm. Remains parfocal across zoom range. Click-stops enable precise focal length matching for bino-viewer use (please note: barrel diameter of the zoom is 57mm, so it may not work in binoviewers for users with narrow interocular separations).

Wide field. The field of view is 68degrees at the 8mm setting, and 50 degrees at 24mm.

Excellent viewing comfort. The eye relief of 12-15mm, large eyelens, and freedom from kidney beaning and blackouts result in a high level of comfort and ease-of-viewing, at all focal lengths.

As with the fixed focal length Hyperions Baader Planetarium has gone to great lengths to give the Hyperion Zoom the most advanced multicoatings ever used on amateur telescope eyepieces. The Hyperion Phantom Group multi-coatings truly rival the best in the world - including the famous Zeiss Abbe Orthoscopic! The difference in contrast and transmission is clearly visible at the eyepiece.

Superb fit and finish. Zoom motion is smooth and precise. Barrels are accurately machined, with excellent surface quality, and hard anodizing. The 1.25" Barrel is threaded for standard 1.25" filters.

Adjustable rubber eyecup works for both normal and eyeglass users. Rotating eyecup incorporates a variable-height helical adjustment for setting the optimal spacing.

Designed to integrate perfectly with many popular spotting scopes (see below).

Hyperion Zoom as a spotting scope eyepiece

Owners of Celestron/Synta and Zeiss spotting scopes will appreciate the direct-attachment made possible by the Hyperion Zoom's innovative removable front barrel, which exposes spotting scope attachment threads.

Hyperion Zoom makes a superb projection imaging eyepiece!

Like the fixed focal length Hyperions, the Hyperion Zoom eyelens barrel has been provided with an M54 thread (covered by the removable rubber eyecups). A complete system of adapter rings enables cameras to be directly (and rigidly) close-coupled for afocal projection, or variably extended for classical eyepiece projection imaging with our T-Adapter and Extension Tubes. A series of 16 threaded rings provides compatibility with just about every digital (CCD/DSLR) and videocamera made. For a complete listing of these adapters, please see HYPERION Digital T-Rings and Adapters.
♦ Baader SCOPOS Extreme 2" Eyepieces ♦ NEW!!
Hyperion owners have continually asked for longer focal length eyepieces that could deliver equivalent performance and value. Baader Planetarium has finally responded with their new SCOPOS 30mm and 35mm 2" eyepieces. Based on the similar (and now discontinued) eyepiece design available from a previous supplier, the Baader SCOPOS incorporate upgraded multi-coatings, blackened lens edges, and offer the same wide fields and long comfortable eye relief as their Hyperion cousins.

The SCOPOS Extremes deliver performance that rivals much more expensive eyepieces. Their 70degree sharp apparent field, huge eye lenses, and comfortable exit pupil make these a real joy to use, and elicit that famous 'space walk' feeling - without an accompanying zero gravity wallet feeling...

Soft silicone rubber eyecups fold down for eyeglass users, and the rubber grip ring and safety barrel undercut provides an extra measure of safety. Each SCOPOS eyepiece is supplied in a leatherette pouch and includes two protective end caps.

Please note: these are impressively large eyepieces (30mm = 730g; 35mm = 1084g).
♦ Baader Genuine Orthoscopic Eyepieces ♦

The true Abbe Orthoscopic has long been recognized for its ability to deliver the highest resolution, contrast and light throughput of any modern eyepiece design. On-axis images are essentially perfect and the orthoscopic design ensures freedom from distortion. Contrast and throughput are maximized by it's minimum of lens elements and only 4 air-to-glass surfaces.
The pinnacle of planetary eyepieces, the Zeiss Abbe Orthoscopic, are still regarded as the finest eyepieces ever produced, and are the standard against which all other premium eyepieces are compared to. Unfortunately, these eyepieces are no longer produced, and command prices of up to $800 apiece! on the secondary market. Through their many years of eyepiece design and production, combined with their close associations with Zeiss, Baader Planetarium has acquired a unique in-depth knowledge of eyepiece design and fabrication. Baader set out to deliver an eyepiece that is worthy of comparison to the Zeiss Abbe, while still remaining affordable for the amateur. The result is the Baader Genuine Orthoscopic.
Phantom Multi-Coatings. Absolutely the finest Broadband Multilayer Coatings available have been applied to all surfaces. Reflectivity of less than 0.2% at each air-to-glass surface results in maximum contrast, light throughput, and freedom from ghost images.

Superb Lens Polish. Baader Genuine Orthoscopics are polished to a high standard, for maximum clarity and contrast. A surprising number of premium commercial eyepieces suffer from roughness, excessive pits, or sleeks left in the lens surfaces. These tiny defects can hamper short focal length planetary eyepieces, where even the smallest imperfections scatter light and reduce contrast.

High quality glasses for maximum transmission and purest colors with no yellowing or selective coloration.

40° apparent field of view.

Parfocal (slight refocusing may be needed).

Superb Mechanical Quality. Proper Internal Baffling and Blackened Lens Edges for elimination of stray light reflections. Chrome Plated barrels are threaded for standard 1.25" filters.
Baader Genuine Orthoscopics are the ideal choice for any critical observing that demands the highest contrast, resolution and light throughput. Naturally, observation of fine planetary detail benefits from the qualities of the Genuine Orthoscopic. Lunar and Solar H-Alpha and White-Light observers will find the low scatter indispensable in preventing the intense brightness from washing out subtle surface or limb details. Deep Sky observers will appreciate the contrast and high light throughput for observing faint nebula, double stars, galaxies, and stars at the limit of their equipment and skies.
In his detailed comparison between Zeiss "Abbe", Pentax SMC-Orthos, and Baader Genuine Orthoscopics, noted German amateur Dr. Michael Lalk (Ernst-Moritz-Arndt-University) had the following to say; "My result: Baader -Planetarium has succeeded with the Genuine Orthos. They represent a worthy execution of the orthoscopic eyepiece, in my opinion, and make it possible for those who do not possess the Zeiss Abbes to own an equal alternative at a fraction of the price. No exotic glasses are used here, surely, as Zeiss. But, my observations show that it is actually not possible to differentiate, in use, between a Zeiss "Abbe", a Pentax SMC-Ortho, or a Baader Genuine Ortho".
NEW Winged Rubber Eyecup Now Included with Each Genuine Ortho.